Freepost
Delivery& Logistic | E-commerce | B2C services
command volume
7+ professionals
project results
9 months - average payback period
The Goal: Leverage existing post office infrastructure to create an independent delivery network
Freepost is a software/hardware solution allowing for smart postal terminals and/or self-shipment of parcels to customers. It is a comprehensive solution facilitating the management of postal machines, parcels and couriers, all at the same time.
The system understands and assesses various types of postal terminals and geolocations as well as the possibility to integrate with third party services (Internet shops, CRM, payment systems), etc.
What we achieved:
We designed Freepost to enable an internet shop or any other sender to leave a parcel for a recipient independently, and also to be able to manage their own parcels, which is a unique competitive advantage of the fully developed hardware and software system.
Back-to-back mailers, with their own built-in GSM modems, allow for constant feedback from the mailer. The user can open the mailbox remotely if needed thanks to a convenient and intuitive user interface with the ATM. The system also generates advanced statistics to satisfy the needs of its commercial users.
The potential to franchise and outsource the operation of a post office (e.g. smart lockers that can be rented out and placed in public, tourist areas) was a key function in the product design. It took about 18 months of development for a 7+ team
How we figured it out:
The system has an API that allows it to integrate with various online shops. E-commerce businesses can connect the system to their website allowing customers to order delivery to whichever post office they choose. At the same time, the system has services which allow the online-shop to manage their own couriers ensuring the right object is delivered to the right post office at the right time.
There is also an option to use a postbox as a storage chamber (with a daily storage charge) or to send parcels to other users, using a postbox as a dispatch point.
Tech stack:
Node JS, React JS, React Native, PostGres, JSon, C++
Industries:
Big data, AI, Delivery Services, IoT
How's it all performing?
30% time saving for customers using postal terminals to receive/dispatch parcels
20% lower delivery costs compared to existing solutions
100% – permanent remote monitoring of the status of the post office – a guarantee of the parcel's safety and security of equipment
9 months – average payback period for a franchised post office.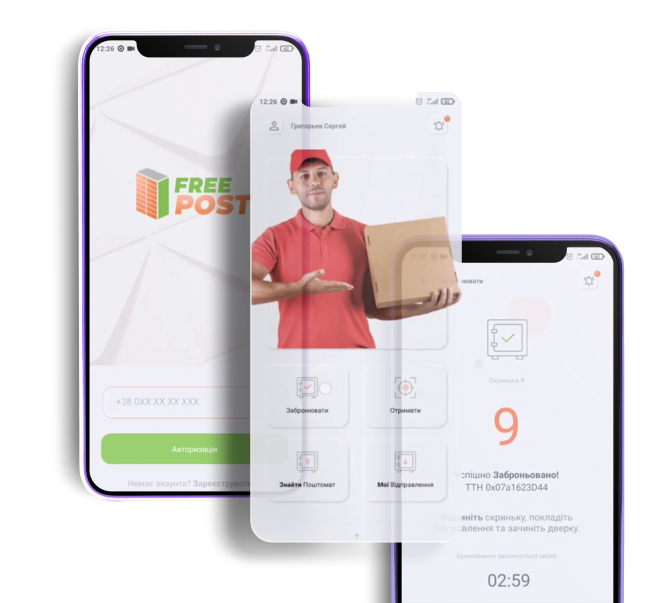 Some of our projects
Our team has delivered over 100 projects. Here are a few.